It's very surprising how often I hear from home owners who are considering completely replacing tiled floors that can be easily be salvaged. While some people might believe that replacement is cheaper and quicker than cleaning, this is emphatically not true in most situations.
Thankfully, one of my recent customers, who lives in Kingston Upon Thames had been persuaded by her husband not to completely strip out the original Terracotta tiles in their kitchen. While the couple had just had new kitchen units installed, it seemed unnecessary to completely replace the Terracotta floor tiles even though they certainly needed a deep clean.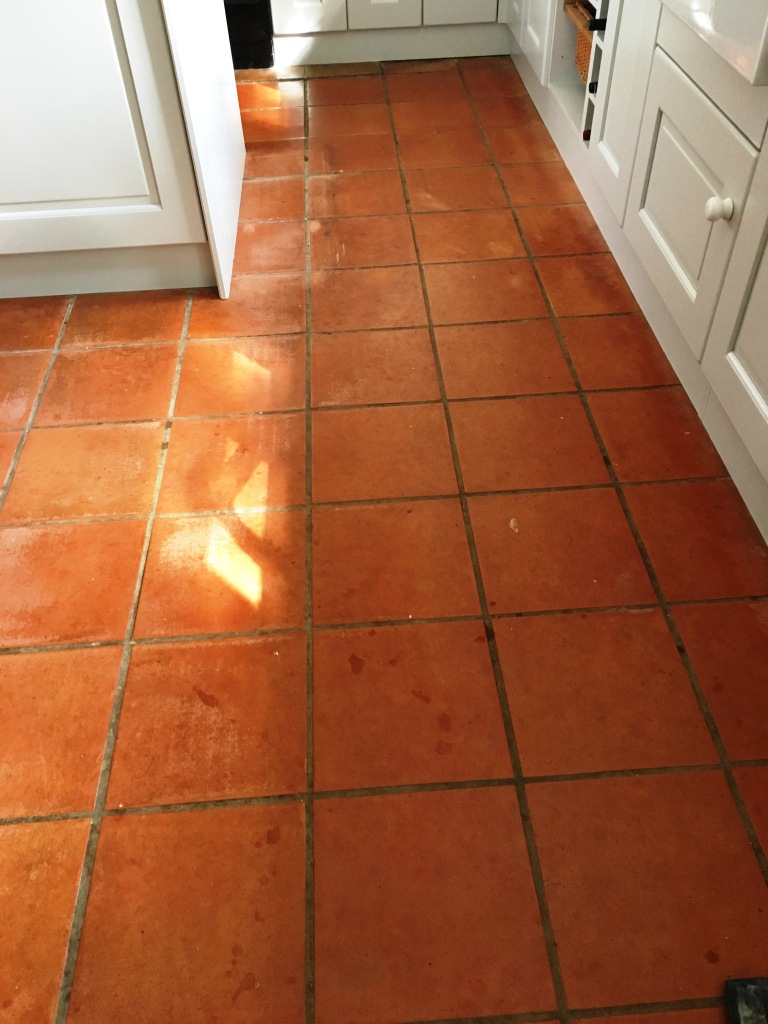 Instead, they contacted their local Tile Doctor to rejuvenated the tiles to complement the new kitchen design.
Cleaning Original Terracotta Kitchen Tiles
Before beginning, I covered all the new kitchen units with protective sheeting to prevent them from encountering water and splashes from the cleaning products. I could see that the tiles had been left unsealed for many years and this had allowed dirt and general muck to become deeply ingrained.
To clean the tiles, I applied a covering of our strong alkaline-based cleaner, known as Tile Doctor Pro-Clean, and left it dwell for a short period. I then attached a coarse, 200-grit diamond encrusted burnishing pad to my buffing machine and began working the product into the tiles. The burnishing pad milled away the dirty top layer of the tiles. Contrary to what some might believe, this doesn't harm the tiles in any way, but instead polishes them.
Any old sealer and dirt that the buffing machine could not reach in the corners of the room was removed by hand using diamond encrusted burnishing blocks. The burnishing process does, in fact, make quite a mess, so I promptly rinsed off the resulting slurry with more water and a wet vacuum to clear the area and leave it clean and ready to be dried.
Sealing Original Terracotta Kitchen Tiles
A lot of water was used during the cleaning process, so I had to leave the property for 48 hours to let the tiles dry completely. Returning to the property after those two days, I sealed the tiles using six coats of Tile Doctor Seal and Go. Following years of next to no protection, the floor desperately needed an effective sealer to put new life in the Terracotta and Seal and Go does that in spades by adding a lovely sheen to the tile.
The photo above shows the amazing difference made by cleaning the floor instead of choosing to replace. The customer's testimonial speaks for itself:
"Excellent service and we are delighted with the work. Would definitely use Rupert again."


Source: Terracotta Tile Cleaning and Restoration Service in Surrey